Infrascale Products and Solutions

Comprehensive Data Protection Platform is an All-In-One Cloud Solution for MSP's

Data Protection Platform is the only comprehensive solution for cloud backup, archive, disaster recovery, and file sharing. Instead of having several different systems to solve these challenges, we offer a complete data protection platform to manage it all, significantly reducing the cost and complexity of protecting data.
Infrascale builds secure cloud storage software.
Problem: The amount of data to be stored is growing geometrically but the cost to store a GB on enterprise storage is relatively stable. Companies face spiraling costs. The cloud holds promise but it must be secure, user-friendly and inexpensive. That's what we do.
Approach: Infrascale's technology converts traditional hardware objects like disk-based backup arrays into virtual cloud-backed software objects available anywhere. It's what we call Software Defined Infrastructure.
Solution: The Infrascale cloud storage platform is unique: it includes both Infrascale's back-end storage software, as well as the task-specific 'data mover' apps for backup and file-sharing that companies need to effectively and securely use the cloud.
Flexible: Our solution runs anywhere – public cloud, private cloud or hybrid cloud. We operate our own infrastructure for customers who want a turn-key service.
Proven: Infrascale currently powers more than 1,000 cloud service brands, who support hundreds of thousands of businesses using our technology, millions of endpoints, and billions of data objects.
---
Comprehensive Data Protection Platform
Our technologies are purpose built for massively scalable endpoint coverage, from smartphones to servers, and everything in-between: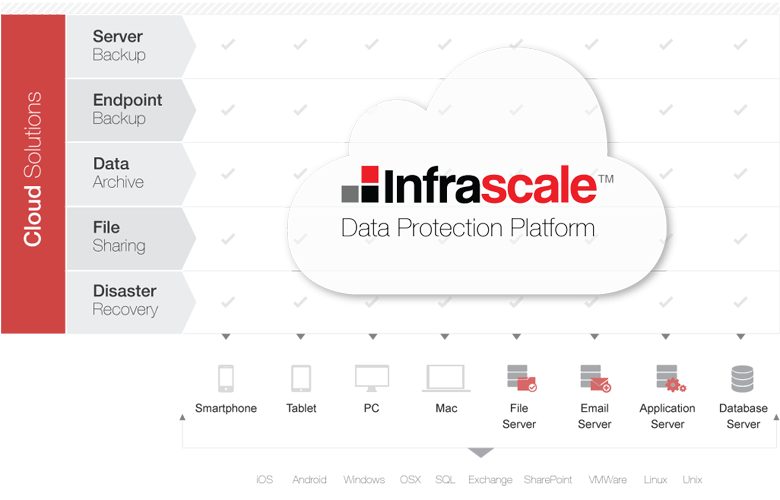 Whether you're looking to host in our cloud, your cloud, or a hybrid of the two, there are flexible hosting options available – also including the Infrascale Data Protection Appliance. These cloud-connected appliances are available as physical or virtual appliances, providing incredible de-duplication technology and allowing for on premise data protection with exceptionally fast recovery time.