SOS Online Backup

Protect your PC, Mac, iPad + iPhone data safe off-site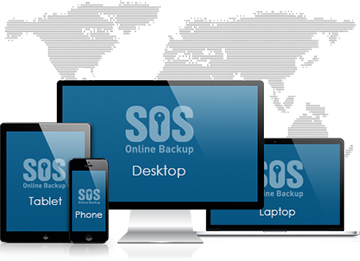 Overview:
The SOS Online Backup product, is a integrated local and online backup tool that allows users to back up their data to an off-site location. It has versions for consumers, SMBs and resellers. The program works primarily on Windows operating systems, but there are also backup clients for iPhone, iPad, BlackBerry OS, Mac OS and Facebook.
Backup Forever

TRULY and ACTUALLY infinite cloud storage.
Get infinite space in the cloud for your entire digital life. Your files/versions will stay in the cloud indefinitely, unlike other services. With SOS your backups are forever.



Safety First

Always-on, end-to-end encryption.
Files are made private BEFORE they leave your computer/mobile and encrypted TWICE before being stored in the  SOS cloud.



SOS for Android

The world's best Android backup app.
Our Android app can protect every file (we mean EVERY file) on your smartphone and tablet. Apps, docs, music, videos, SD cards, everything. Also protect iPhone/iPad with SOS for iOS.
Features & Security:

Apps & Software
Runs Automatically and Quietly

SOS runs quietly and automatically in the background on PC, Mac and Android. (iOS backups are performed manually).
The automatic schedule can be setup to run hourly, daily, weekly or monthly – we recommend at least a daily backup. Set a daily backup window to limit what times of day SOS transfers data. Choose whether or not to receive email reports on backup activity.
SOS uses minimal system resources, check out the system requirements.

Instant Mobile Access and Backup

SOS for Android leads the industry in mobile protection with automatic backup of apps, music, photos, docs and video plus many other desktop-class benefits. SOS for iOS can protect photos and contacts.
Both Personal and Family Cloud SOS accounts support an unlimited number of mobile devices (iOS/Android).

Easy and Quick Setup

SOS will automatically find your important files, then simply set the start-time for your daily backup and you're done! (No extra fees for video backup!)
SOS can find and backup files based on type – documents, images, music and videos – regardless of which folders the files are in. Also setup custom file-types as-needed.
Easy to manually specify exactly which files/folders to backup.

All Options Standard

SOS doesn't use gimmicky service-level plans that artificially separate out features to get you to pay more. With SOS, all options come standard.
Protect all of your USB, FireWire, Thunderbolt, eSATA and other external storage devices. Even backup network-attached volumes from any PC, Mac or Linux machine.
Use SOS to free up space on your external drives since SOS is a true archive and will never delete files from the cloud – even if you disconnect the drive. (That's a REAL backup.)
Not only backup to the cloud, you can also backup to external drives or other local volumes – give yourself ultimate protection and quick recoverability by having a local copy for quick restore if necessary and relying on your cloud backup in an emergency or when on-the-go.
Activate the LiveProtect feature on select files to enable continuous, real-time protection. Files being watched by LiveProtect will be backed-up within seconds of being changed.
SOS can backup files that are being opened and worked on without interrupting you. This applies to most common file types such as Microsoft Office documents.
The SOS Cloud
Infinite Cloud Storage

Personal and Family accounts have an infinite and unlimited amount of storage in the secure SOS cloud.
As much data as you have, as many files, however big, whatever kind – SOS will protect it.
Not all "unlimited" backup providers actually give unlimited storage – for instance, many major service providers will remove files from their cloud 30 days after they are deleted from your computer. What happens if you need to restore a file you accidentally deleted 6 months ago? With SOS you can backup forever without any worry of data being gone later. (Of course, you can always manually delete stuff from the cloud if you don't want it there any more.)

Any File Type Any Size

Any file type, no limits. There are some default "exclusions" in SOS that will skip cache data, application files and other system files that aren't necessary for backup. These exclusions can be easily modified if needed!
Any size file, no limits. Have a 25GB video file? No problem. (Note, SOS can work through network interruptions so don't worry if you have power outage in middle of backing up a big file, the software will pick up from where it left off, cool huh?)
Any number of files, no limits. Backup a billion files or just one – whatever you need.

Intelligent and Incremental Backup

SOS is smart. It can handle spotty or slow Internet connections, power outages or precocious children. Whether in the middle of your initial backup or in the middle of 20GB video file, SOS will pick-up right where it left off.
The backup apps use lossless compression during transfer in order to minimize bandwidth usage while posing zero risk of damage to files.

ForeverSave Archive and Version History

SOS is a true archive and can be used to free up space on your local hard drives – we call this ForeverSave.
If you delete a file from your computer the backup copy and all of its past versions will remain in the cloud forever. You can manually delete files from your cloud backup if you don't need them anymore. (Most services limit how long files stay in the cloud after being deleted.)
SOS hold every past backup version of every file forever.
Security
UltraSafe End-to-End, Always-On Encryption

All SOS apps (desktop AND mobile) encrypt your files using UltraSafe 256-bit AES before transferring them to the cloud. We stay up-to-date and use the same encryption technologies employed by banking and military applications.
Each SOS user's files are secured with a unique UltraSafe encryption key.
Files are transferred to and from the cloud via a Secure Sockets Layer (SSL) connection.
Once files arrive in the cloud they are encrypted with a second layer of UltraSafe 256-bit AES encryption – again each user is protected with a unique key.

UltraSafe MAX, Surveillance-Proof Security

Recommended for sensitive data, UltraSafe MAX accounts are protected with unique user-defined encryption keys.
With UltraSafe MAX, keys are NEVER stored or saved in the SOS cloud. This means absolutely no one is able to access files except for the account-owner.
Note: Because of their nature, SOS cannot reset the password or encryption of UltraSafe MAX accounts. If you lose the password the data will be un-recoverable.

Certified World-Class Data Centers

SOS is unique. We operate in 11 independent data centers on five continents and not a single byte of our customers' data is stored on 3rd-party equipment.

Your files are stored on customized clusters of servers that we have perfected over the years. Data is protected by advanced RAID configurations and real-time network monitoring. Also, we backup your backup each night to entirely different hardware in order to completely minimize the risk of data loss.
All of our data center locations are SSAE 16 (SOC 1)/SAS 70 Type II audited on a regular basis. Security features include:

24-hour manned security and video surveillance,
Proximity security badge access,
State-of-the-art smoke and fire suppression,
Temperature controlled environment systems,
Seismically-braced construction,
Redundant backup power systems.

Regulatory Compliance

SOS has always been built to meet the needs of businesses and organizations that handle sensitive information.

Health Insurance Portability and Accountability Act (HIPAA)

Title II of HIPAA, known as the Administrative Simplification (AS) provisions, requires the establishment of national standards for electronic health care transactions and national identifiers for providers, health insurance plans, and employers.
When used with UltraSafe, SOS complies with the record backup and privacy requirements of HIPAA. No additional contract is required with SOS. Please email us if you require a Business Associate agreement with SOS.
SOS assists healthcare providers to be HIPAA compliant in the following ways:

SOS, in all cases, creates, received and transmits only encrypted data. SOS uses a three-tiered AES encryption system which protects data on the user's computer, again in transit and finally when at rest in storage at SOS' data centers.
Data cannot be read while in transit or when stored on SOS servers. (Provided the user/healthcare provider does not compromise account credentials.)
SOS servers are located in SSAE 16/SAS 70 audited data centers protected by gated access 24x7x365, on-site security staff and technicians, electronic key card access and video surveillance both inside and out.
Backing up with SOS can protect against data loss due to hardware malfunction, accidental deletion, virus attacks, theft or natural disaster.
SOS' UltraSafe feature allows the user (healthcare provider) to store data securely in such a way that no unauthorized access is possible – including by that of SOS engineers and staff.

Securities and Exchange Commission, Sarbanes-Oxley (SOX)

Sarbanes–Oxley is a United States federal law that set new or enhanced standards for all U.S. public company boards, management and public accounting firms.
When used with UltraSafe, SOS complies with the record backup and privacy requirements of SOX and other SEC regulatory standards. No additional contract is required with SOS.
Competitive Comparison:
Here's why the new SOS is the best offer on Earth.
SOS Online Backup
Carbonite
Mozy
Infinite Cloud Storage
Archiving & Retention
Infinite & Unlimited
30 days
30 days
Version History
Infinite & Unlimited
Up to 12 versions for only 30 days
Up to 30 version for only 30 days
Use of Third-Party Cloud Storage
No, all SOS-owned
No Information Available
No Information Available
Customer-Defined Encryption Key
Mobile
Encryption Prior to Backup
Android Only
No Information Available
Access Files in the Cloud
iOS Backup (iPhone/iPad)
Android Backup
Other Options & Features
Local Backup Included
Automatic Video Backup
Videos must be added manually
External/Network Drive + NAS Support
Auto File Size Limit
None
4 GB
None
File Type Limit
None
Auto video backup only with upgraded plan
None
Specifications:
Apps & Software
Windows XP, Vista, 7 and 8 Pro (32/64-bit)
Windows Server 2003, 2008 and Small Business Server
Mac OS X 10.6 and up
Android 2.2 and up
iOS 6.0 and up
Linux volumes supported by network-mapping to a PC or Mac. SOS for Windows includes "Add Network Location" option.
Encryption & Security
Unique-per-user 256-bit AES encryption prior to backup.
UltraSafe MAX (optional) accounts use a unique, user-defined, encryption key that is NEVER stored in the SOS cloud. Access cannot be restored if account credentials are lost.
SSL optional. (set in Preferences)
Unique-per-user 256-bit AES encryption at rest in the cloud.
For increased security, UltraSafe MAX files are only accessible via SOS desktop applications, not the MyAccount web portal. At this time, UltraSafe MAX is only available on Windows.
File Handling
All Personal and Family customers have infinite storage in the SOS cloud.
ForeverSave File Retention: Files deleted from the local source (computer/hard drive/etc.) will remain in cloud indefinitely.
ForeverSave Version History: Each and every past version of every past backup is kept.
File Size Limit: None
File Type Limit: None
Number of Files Limit: None
Mobile Access & Backup
SOS for Android: Backup based on a schedule, backup whenever plugged into power, backup only via WiFi to save cellular bandwidth, protect all files including apps, music, video, pictures and files on expandable SD storage. Access and download any supported file from your cloud.
SOS for iOS: Backup contacts and photos in the Camera Roll. Due to limitations by Apple, the app cannot automatically backup or access media files such as music and video. Access and open any supported file from your cloud.
Other Features
Smart Scanner: SOS will automatically scan for important and common file types including images, music, video and documents.
External Hard Drives, NAS, Network Volumes: SOS can protect external hard drives/network volumes with no extra charge or plan upgrade.
Local Backup: SOS for Windows can create a local backup onto an external hard drive/network volume.
System Requirements:


For Microsoft Windows
Download the latest software for Windows



Windows 8 (32/64 bit version)
Windows 7, Windows Vista (32/64 bit version)
Windows XP (32/64 bit versions of Professional, Home, Media Center or XP Tablet)

300Mhz or faster processor
30 MB hard drive space
High-speed Internet connection recommended
Download Size: 20 MB

For Apple Mac
Download the latest software for Mac

Intel Mac
OS X 10.6 or higher
Broadband Connection
5 GB of free space
SOS Business
For Microsoft Windows
Download the latest software for Windows



Windows 8 (32/64 bit version)
Windows 7, Windows Vista (32/64 bit version)
Windows XP (32/64 bit versions of Professional, Home, Media Center or XP Tablet)

300Mhz or faster processor
30 MB hard drive space
High-speed Internet connection recommended
Download Size: 20 MB

Other Downloads
For iPhone/iPad
Download the latest app for your iPhone / iPad
For Android
Download the latest app for your Android
Data Detector
Is your data safe from accidental deletion, viruses, and natural disasters? Find out how you can protect your data with our Vulnerability Scanner.